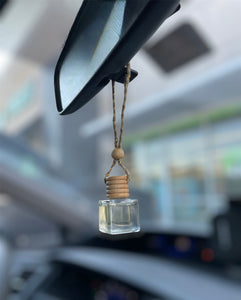 Hanging Car Freshener - Car Diffuser - Choose Your Scent
Regular price
Sale price
$10.00
---
This cute minimalistic hanging car freshener comes filled with 8ml of phthalate free strong scented oil. Great as a gift or party favors!
➳Ancient incense - sage leaf, cedar, cinnamon & clove enveloped in herbaceous rosewood and myrrh with a beautiful blend of frankincense and musk.
➳By the Campfire - warm spicy musk and cedar with hints of herbals.
➳Clean Linen – fresh clean cotton linen with powdery musky and hints of floral, citrus notes.
➳Cologne Musk – masculine fragrance made with notes of lavender, vanilla, woodsy, and musk.
➳Cypress + White Musk – pine, cypress, lemon and lime with white musk.
➳Hoodie Weather – eucalyptus, juniper berry and fresh sage that celebrates the arrival of crisp autumn breezes.
➳Jasmine + Vanilla – vanilla, tonka bean and jasmine.
➳Oakmoss + Amber – rich musk, amber, woods with hints of green, patchouli, sweet sugar, and amber.
➳Rain Barrel – fresh clean water scent like a fresh rain or being in the middle of a rainforest.
➳Rose + Marzipan + Almond – light floral fruity fragrance composed of marzipan, benzoin, rose, cassia and almond.
➳Summer Night – rich masculine drakkar noir smell with light musk and citrus notes.
➳Sweet Floral + Amber – a delicate creamy mix of amber, peonies and sweet floral, and bright prosecco.
➳Teakwood + Balsam – woodsy musk of cedar and balsam with sweet hints of vanilla.
➳Tonka + Lemongrass – citrusy blend of lime, tonka bean, lemongrass, vanilla, ylang ylang and litsea.
➳Warm Vanilla Sugar – warm sugary vanilla bean.
➳Surprise Me! – random fragrance added, may even include scent off the list!
Directions:
1. Unscrew wooden lid and remove plastic stopper.
2. Screw wood lid back on tight.
3. Tip freshener upside down for 3-5 seconds and watch lid soak up the oil. Don't tip for too long or oil may leak!
4. Tie freshener to rear-view mirror. This item is not meant be placed on a surface that may move.
5. Tip every so often as oil fragrance starts to fade and lid appears dry. Please wait until lid is dry to prevent leaks when tipping.
If any oil is spilled, please wipe away and clean surface immediately. Lid should only be removed to add more oil.
~ Mysteries of Mayhem is not liable for any damages caused by this product. Any oil spilled should be wiped away with a cloth immediately and the surface cleaned. ~